Stress Relieving & Fun Sport Axe Throwing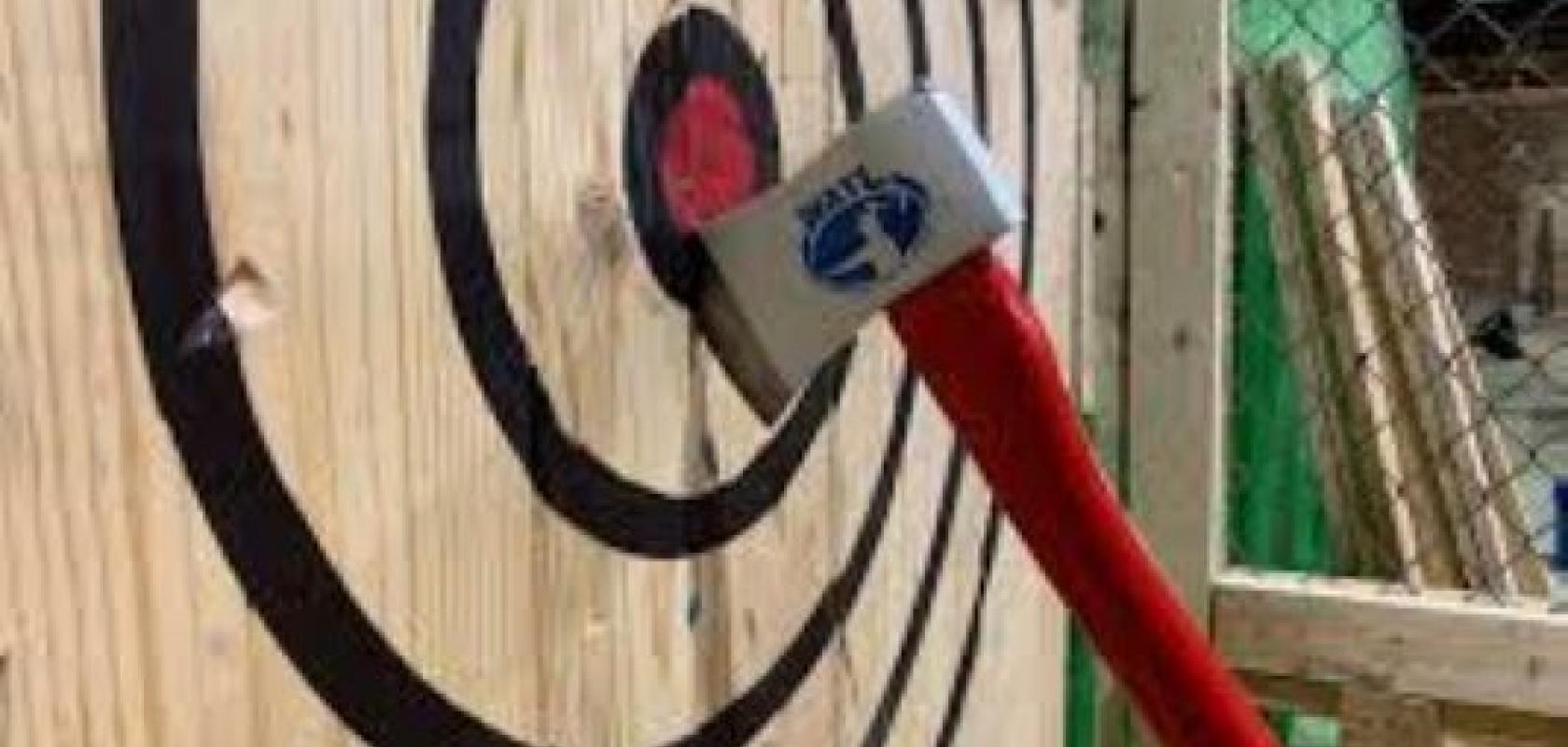 Axe Throwing a Stress Relieving and Fun Sport
At Paintball USA we offer outdoor axe throwing. You do not need any experience in axe throwing to try it. We provide an axe throwing instructor to show you how while following safety standards. https://www.paintballusa.org/
Axe throwing gives you a full body work out. Your extremities are utilized to guide the axe to the target's bull's eye. Any fitness level can participate, and we advise this activity for players ten years old and up.
The axes used are light weight, easy to handle and can be thrown without any sort of muscle strain. It utilizes hand, eye coordination while using your mind concentrating on trying to hit your target. You can play this sport with a group of friends or by yourself. When you hit your target, you will experience an adrenalin rush.
Axe throwing is a great corporate team building activity, paintball birthday parties, ex-spouse "forget them" parties and fun for practically any celebration you can think of. https://www.paintballusa.org/reservations/booking-request
As a stress reliever, axe throwing is a physical sport that combines mental and emotional stimulation in a social setting. Get up off the therapist's couch and relieve your tension with friends while getting exercise.
If you find that you really have a "knack" for axe throwing and fall in love with the sport, you can always find a league to join or simply start your own.
Who Shouldn't Participate in Axe Throwing?
Anyone who is pregnant
If you are under the influence of drugs, alcohol or prescription drugs that impairs your mobility and judgement
Individuals who are not in good health and/or in proper physical condition
Anyone who is suicidal or suffering from emotional problems
Anyone who has been committed to a mental institution or have a history of mental illness such as Schizophrenia, Manic Depression, Bipolar disorder, etc.
Children under the age of 10 years old
Summer Camp Activities at Paintball USA
During the summer months when children are out of school, Paintball USA offers fun for all ages. Splatmaster is great for kids six years old and up. The pump action spring splatmaster air gun shoots .50 caliber paintballs with far less impact than the semi-automatic markers with air tanks attached. It is a much lighter in weight gun making it easy to carry around for little ones.
When choosing a summer camp activity, start by doing a google search of paintball parks near me. Check Yelp and Google Reviews for that park before making your decision.
Paintball Soft, our .50 caliber air gun propels .50 caliber paintballs which are half the size of a standard marble sized paintball. Beginners would feel confident in playing with the .50 caliber marker. https://www.paintballusa.org/about/paintball-soft-splatmaster
Whether using the splatmaster, paintball soft or standard .68 caliber paintball air gun, kids can participate in axe throwing and rage room sports if they are ten years and older.
Water balloon fights are fantastic for hot summer days at Camp Paintball USA. Filled with water, kids have a great time in throwing balloons at each other to cool off after playing a few hours of paintball games.
Don't forget to bring snacks, lunches, ice chests and plenty of drinking water. There are shaded picnic facilities with water misters. The local pizza restaurant delivers here to Paintball USA.
In summary, axe throwing is a safe and fun activity that can soon become your favorite sport. It is one of the best physical stress relievers around and can be played either with or without paintball at Paintball USA.